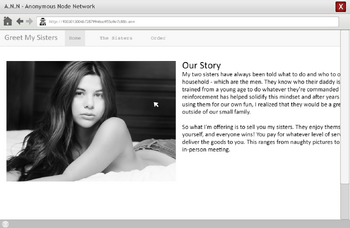 Greet MySisters is a website on the Deep Web which is run by a father and his son, offering to sell readers the son's sisters for a limited time and for customers to do what they wish with them. The two sisters are Samantha and Abbey.
A part of the "Who Am I?" ending can be found on this website. That includes hotspot areas on photos like toes, eyes, lips, etc. on "The Sisters" subpage.
Ad blocker interference detected!
Wikia is a free-to-use site that makes money from advertising. We have a modified experience for viewers using ad blockers

Wikia is not accessible if you've made further modifications. Remove the custom ad blocker rule(s) and the page will load as expected.