Passports Are Us is a deep web website
Description
Edit
Passports Are Us is a site that can be found on one of three deep wiki pages. Passports Are Us is a deep web website that specialises in making fake custom passports, mainly for ilegal purposes, like drug trafficking, criminal escapes and many more illegal crimes that will involve passports or traveling overseas.
This site can have a code on it. This website has one sub page which makes this site slightly harder to find a code on this site than ones with no subpages. The code can be on the passport or sometimes in one of four bodies of text. The payment page can already be revealed on the payment page or by clicking the link or payment information listed on the page. There seems to be no question on The Gatekeeper involving this website.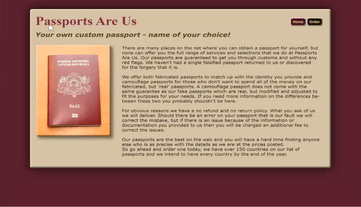 Ad blocker interference detected!
Wikia is a free-to-use site that makes money from advertising. We have a modified experience for viewers using ad blockers

Wikia is not accessible if you've made further modifications. Remove the custom ad blocker rule(s) and the page will load as expected.