The Butcher is a website on the Deep Web, consisting of a wall of white text titled "Butchering the Human Carcass for Human Consumption" on a black page and a few links. It is written by "Bob Arson" and walks the reader through the pros and cons of prepared cannibalism, as well as dead links to detailed guidance on how to do so.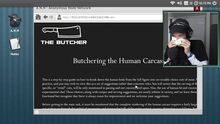 The site also has a chance to show a key under Bob Arson's name after clicking the "Gutting" link. Key might also appear under "Skinning" subpage and on the bottom right corner under "Hanging" subpage.
The site is a word-for-word copy-paste of a real cannibalism guide written by Bob Arson on the surface web that can be read here.
The author of this essay (Bob Arson) is a question on The Gatekeeper.
Ad blocker interference detected!
Wikia is a free-to-use site that makes money from advertising. We have a modified experience for viewers using ad blockers

Wikia is not accessible if you've made further modifications. Remove the custom ad blocker rule(s) and the page will load as expected.